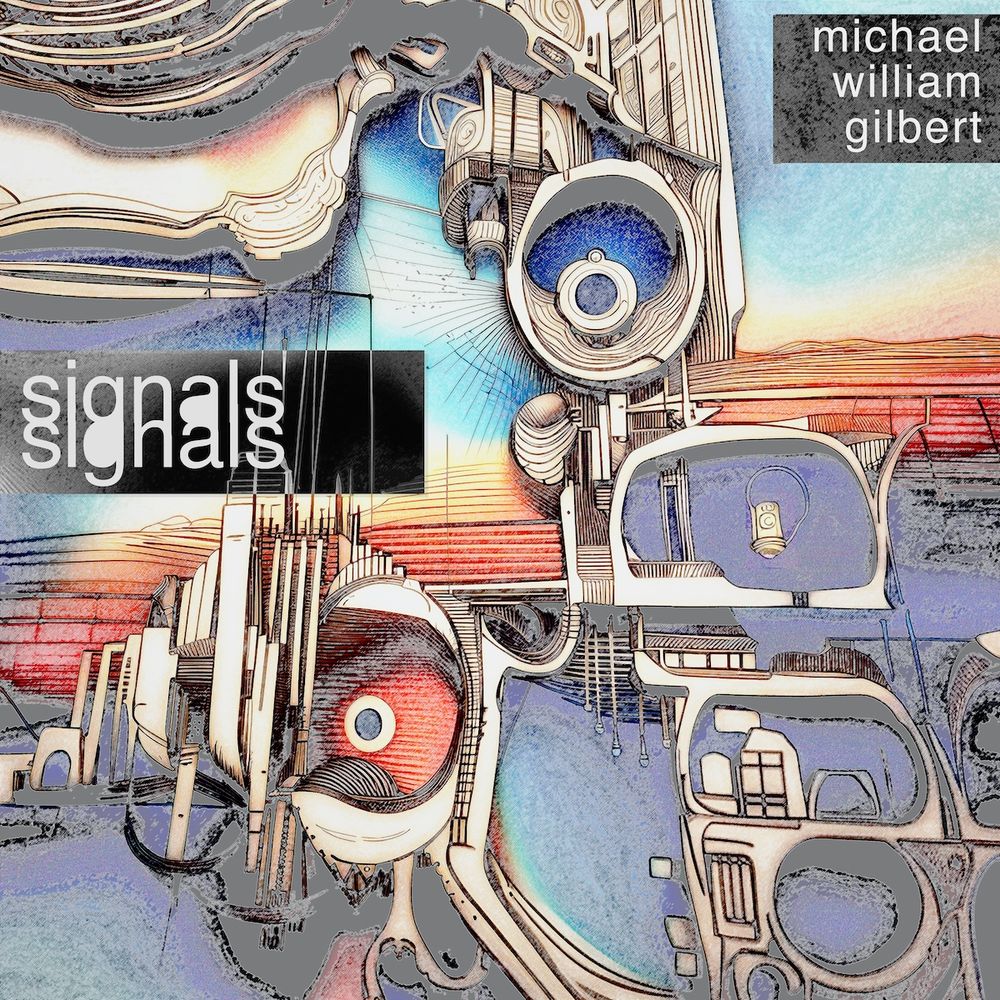 "Signals"
Coming soon!
An electronic music piece created with modular synthesizer and percussion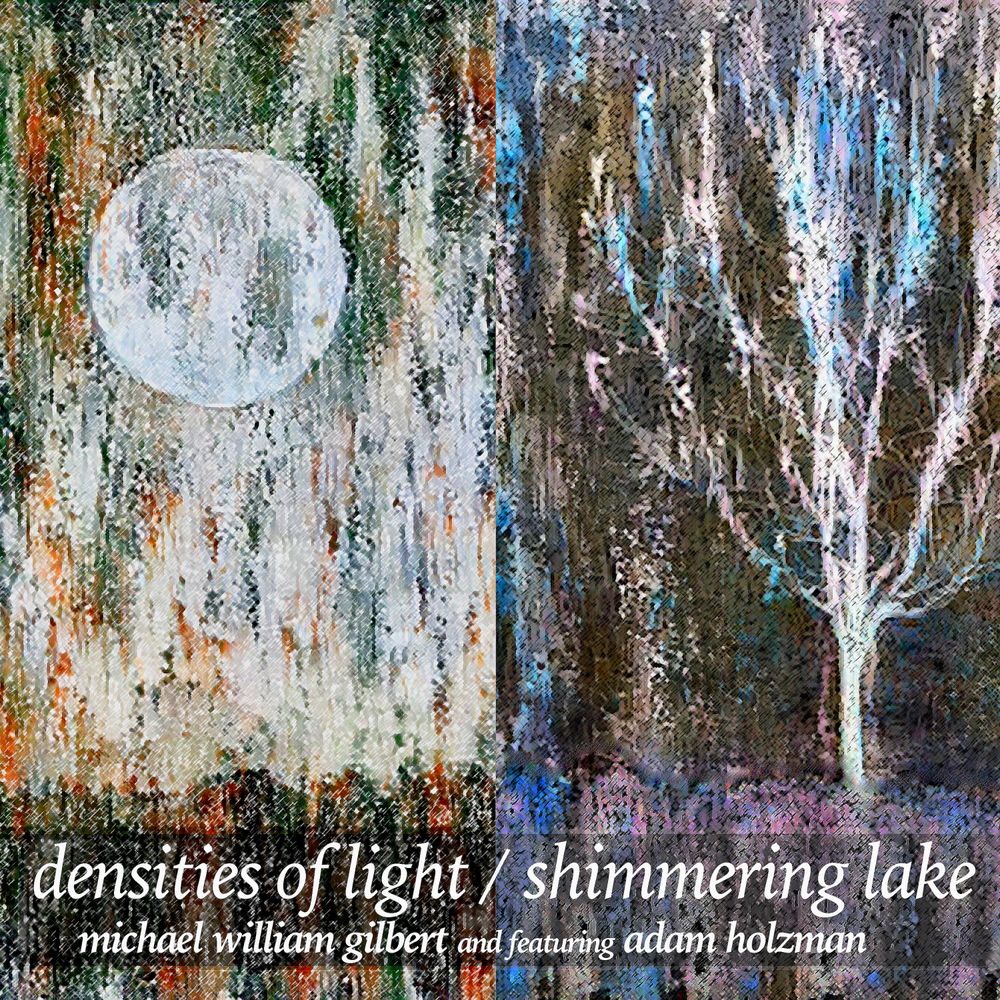 "Densities of Light / Shimmering Lake"
NOW AVAILABLE AT BANDCAMP AND STREAMING SERVICES
Creating music with Adam Holzman as a featured artist is always a great experience! When working with him I have always tried to make settings for him to work with that measure up to his creative talents. I think that "Densities of Light / Shimmering Lake" meets that goal; it showcases Adam's many strengths as a player, soloist, and co-producer.
Ever since "Winter Light" (from "Moving Pictures"), the play of light in both nature and in the built environment has fascinated me. Light is such an essential part of our existence in wonderful ways, as well as not-wonderful ways such as the rapid encroachment of light pollution. Over a range from the light on the side of a mountain to a neon sculpture, it exists on many layers simultaneously, and it affects us all in a myriad of ways (whether consciously or not). I've always tried to bring that in as some kind of element of my compositions. This piece is a single entity with two movements that have no simple or direct division between them, hence the duality of the title. And...the music sounds as good as it does because a master of mastering puts his finishing touches on it!
Mastered at Abbey Road Studios by Sean Magee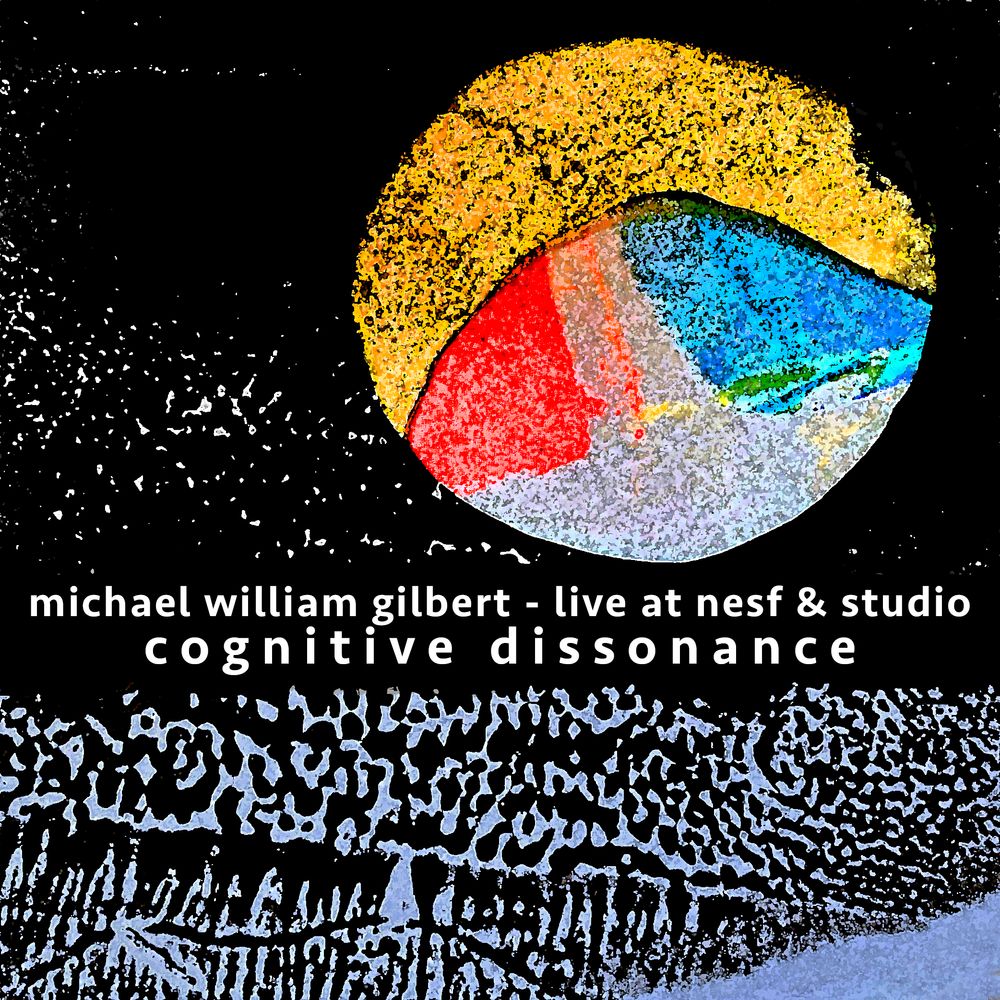 "Cognitive Dissonance (Live)
NOW AVAILABLE AT BANDCAMP AND STREAMING SERVICES
Throughout my musical life trip, live performance wasn't a direction I took often. With the rise of Eurorack and my own renewed interest in modular synthesis, I've had the chance to experiment with playing live. In the years leading up to the pandemic, I did a bunch of live sets at various venues. Since my last gig at the end of 2019, I've been focusing on studio recording. With live music making a comeback, I decided to slowly get back into performing. I was asked to do a set at the NESF (New England Synth Fest) event on April 22nd. For the performance, I put together a new piece called "Cognitive Dissonance" using only my modular synthesizer. The set combined live playing, live improvisation, and pre-recorded samples triggered with pads for swapping samples on the fly. This is a recording of that gig, and I'll let you decide (or not) how the title and the music are intertwined. I did a minimal cleanup in Logic, and then mastered it. I'm excited with how the recording turned out and am hoping to keep performing live in the future.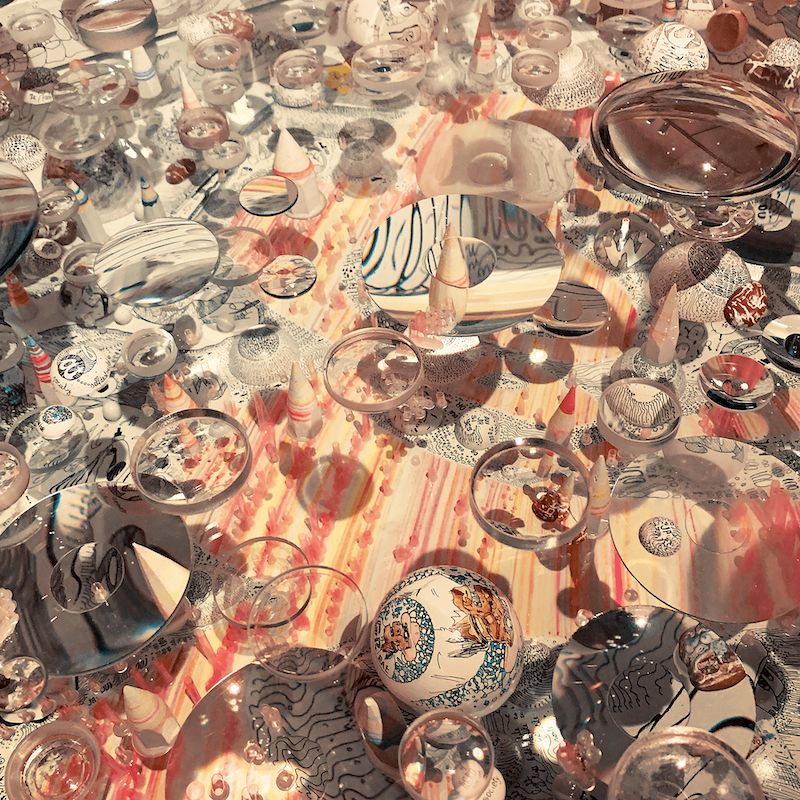 "Voice Ping Strum" (Limited edition of 300 on vinyl)
NOW AVAILABLE AT BANDCAMP AND STREAMING SERVICE VINYL LP AVAILABLE AT BURNING SHED
My tenth release, entitled "Voice Ping Strum", comes at the 40th anniversary of my first album, "Moving Pictures", and the title is an anagram of that first one. It was done in my own studio on primarily Eurorack and Aries modular synths, with some sampled voice and piano. Most of the modular synth patches were done using Tall Dog modules. Each side of the record is a single, uninterrupted suite.
In looking back at "Moving Pictures", I decided to release this new one initially on vinyl as a limited edition. The sides were mastered and cut at Abbey Road Studios by Sean Magee. The cover features artwork by German artist Mary Bauermeister.
"Surround(ings) binaural headphones render"
Immersive tracks from MW Gilbert featuring Adam Holzman NOW AVAILABLE SEE BELOW
THESE TRACKS ARE DOLBY ATMOS™ VERSIONS OF THE FIRST THREE TRACKS FROM THE "SAṂSĀRA" ALBUM
When I was at the Audio Engineering Society Convention this past October, it became apparent that immersive music in general (and Dolby Atmos™ in particular) was becoming more and more integrated into the overall music streaming ecosystem. I heard some amazing demos, and heard from engineers and producers about their directions forward working with artists. Wanting to be a part of that, and curious about the musical and technical choices made by other artists, I decided I would try it for my own music. I chose Dolby Atmos™ as the format due to its availability on Apple Music, Tidal, and Amazon. We took the first three tracks of "Saṃsāra", my recent release featuring Adam Holzman, and went back to the original unmixed tracks. I remixed everything into multiple stems, and sent all to engineer Chris Perry in Toronto. He did the Dolby Atmos™ mixes. Those mixes then went to Oli Morgan at Abbey Road for mastering. Here are the results! I've listed some resources here to get you started:
Spatial Audio with Dolby Atmos™ in Apple Music:
https://support.apple.com/en-us/HT212182
How to listen to music in Dolby Atmos™ on TIDAL:
https://www.dolby.com/experience/tidal/tidal-how-to/#gref
How (and Why) To Listen to Dolby Atmos™ Music on Your Receiver, Speakers or Soundbar
https://www.ecoustics.com/articles/how-to-listen-dolby-atmos-music
About Dolby Atmos™
https://en.wikipedia.org/wiki/Dolby_Atmos

I'm making these tracks available in multiple formats:
- on streaming services (that support Dolby Atmos™)
(so far: Apple Music, TIDAL, & Amazon)
- a rendered binaural BIN WAV version, available on Bandcamp
- a rendered 5.1 ADM WAV version, available on request
- a full ADM WAV file version, available on request
- an mp4 file version, available on request (mp4 info : https://bit.ly/3RkYBn4)
Requests to: mwg@mwgilbert.com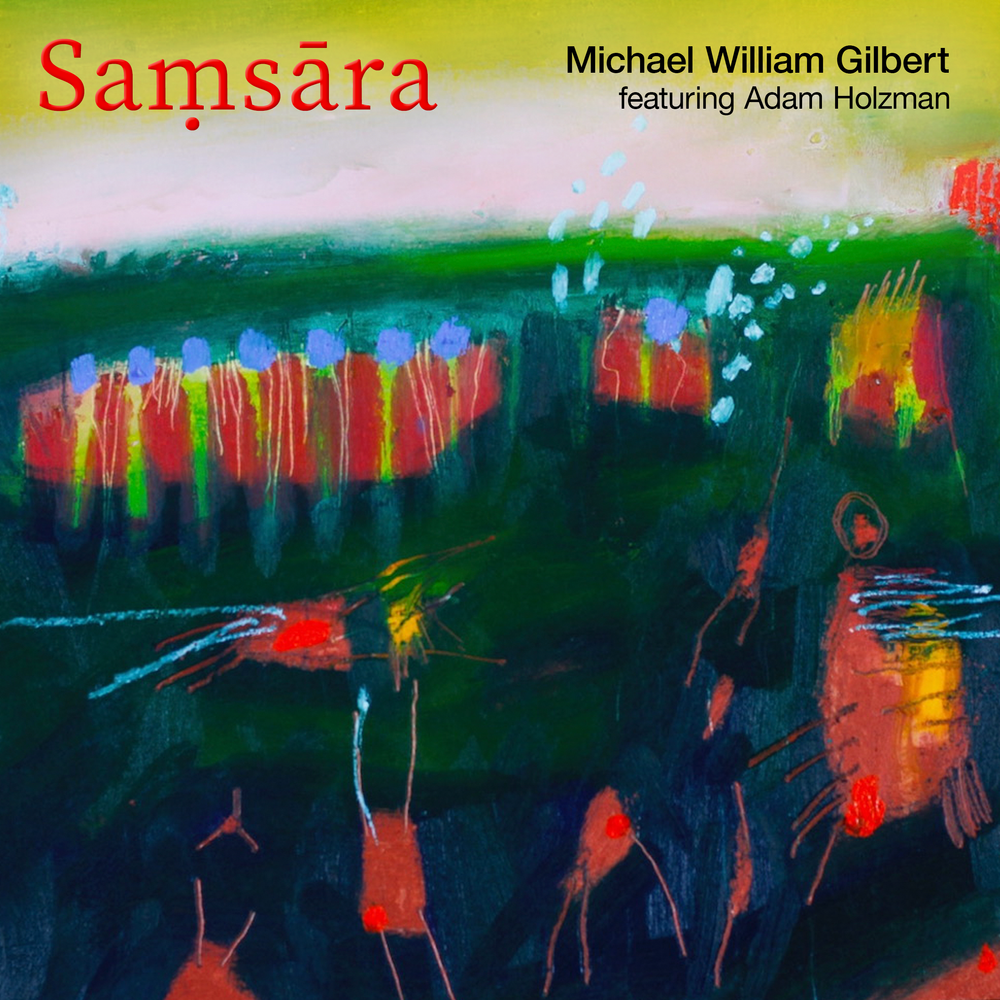 "Saṃsāra" From MW Gilbert Featuring Adam Holzman On Keyboards & Modular Synth
NOW AVAILABLE AT BANDCAMP AND STREAMING SERVICES - CD AVAILABLE FROM BANDCAMP
"Saṃsāra" is a new release showcasing two new tracks featuring Adam Holzman, as a compilation with tracks featuring Adam from recent singles and albums.
Saṃsāra (संसार) is a Sanskrit/Pali word that means "world", as well as the concept of death and rebirth and "cyclicality of all life, matter, existence". It is a fundamental belief of most Indian religions. Popularly, it is the cycle of death and rebirth. Saṃsāra can be called transmigration, karmic cycle, reincarnation, etc.
It's a concept that is part of many religious and spiritual traditions worldwide, practiced by billions of people. Many incredible and insightful perspectives out there other than ours...
I have been working with Adam Holzman on many projects, and I'm constantly blown away by his contribution to, and collaboration with, my music and recordings. He has superb fluid musicality in many different genres. From touring and recording with Miles Davis and up to Steven Wilson he has proved to be one of the great synthesizer soloists. I also think he's an excellent pianist, and I tried to really focus in on piano in a couple of the pieces in this collection. It's a great pleasure working with him, and I want to continue! Mastered at Abbey Road Studios by Sean Magee. The artwork for "Saṃsāra" is by Kate Nelson excerpted from her painting "Tremorous Particles"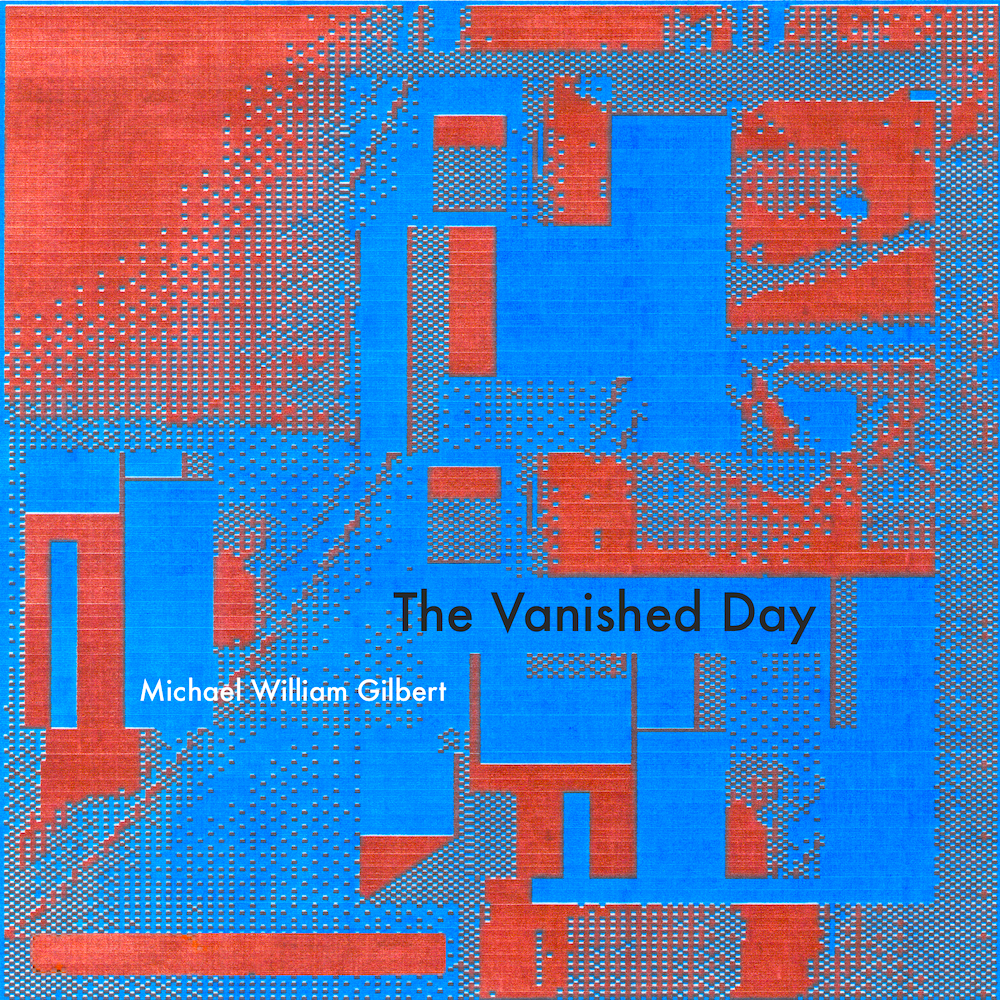 "The Vanished Day" Electronic music & musique concretè
NOW AVAILABLE AT BANDCAMP AND STREAMING SERVICES
"The Vanished Day" grew out of thinking about how the traumas of the past year have felt: pandemic, the lack of racial and social justice, climate change, authoritarianism, economic inequities… I have found the totality of it unsettling if not overwhelming. The impossibility of grasping it all in social, emotional, or intellectual terms, led to this track. The piece is a six-part suite, building from ideas born in the great electronic music studios of the 50s - 70s, and integrating more contemporary influences. The electronic sounds were created with Eurorack & Aries modular systems, with the addition of musique concretè, voice, and hand percussion. Among all the various genres of music I've worked in, it is this pre-MIDI approach to composing electronic music that I began with in the mid 70s. It has been an element of everything I have composed since. Being personally involved in the modular synthesizer revival that started in the early 2000s has been fascinating. It continues to grow to this day, and I'm looking forward to it. Mastered at Abbey Road Studios by Sean Magee.
More about musique concretè and electronic music here
More about Eurorack modular synthesizers here
More about my music studio here
About Tall Dog Electronics modules in my studio Eurorack rig here
"Music that evokes falling into and out of dreams, things half remembered, sounds that find their way to long buried emotions, now familiar, now novel, now enchanting, now frightening. It is such a pleasure to hear music that is not driven along by a beat but just makes its own time. To make this music requires a good ear, a good imagination and a mastery of the technological resources so that they serve the music and not the other way around"
- Ronald Perera, composer